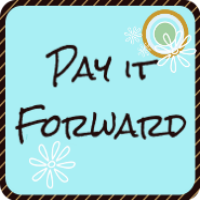 My friend Holly started her "Pay It Forward" meme so that bloggers can share the good things they see in the blogosphere. (Click on the button for more information.)
This week I want to share two posts about summer reading. The first - which is
here
- is from fabulous, fun Utah author Jessica Day George, who posted her personal summer reading list, including a photo of her nightstand. She's got some great reads there!
The second post - which is
here
- is from Katrina at Callapidder Days. She hosts the Fall into Reading and Spring Reading Thing challenges, but she also blogs about her faith and her family. Today I enjoyed reading about the lunchtime read-aloud she's doing with her 12-year-old and 5-year-old sons - and I'm feeling inspired to read with my own 12-year-old.
What summer reading plans do you have for yourself and/or your family?