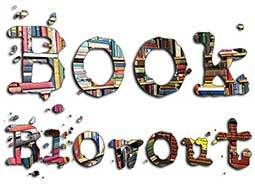 July's Book Blowout - hosted by Mrs S at
Blue Archipelago
- is over. While I knew, given my calendar, that I wouldn't be able to have a banner month of reading, I didn't even come close to
my goal
of reading eight books during the month. This is what I managed:
The Host by Stephenie Meyer

- that's one book!



Just Listen by Sarah Dessen

- that's a second book!



Most of an abridged audiobook version of David McCullough's 1776

- i'm counting that as a half of a book



About half of Doomsday Book by Connie Willis

- that's another half!
So I guess that adds up to three books ... Sigh.
Here are a few questions that Mrs S has suggested that participants answer:
Did you discover a new author? Actually two of the four books I was reading were new-to-me authors. I'd been meaning to read Sarah Dessen for some time and finally got around to it - and I'll definitely be reading more of her work. I'd also not read any of David McCullough before now.


Where was the most unusual place you found yourself reading? Because I was on vacation in Washington State with my family during July, I carried my books on a ferry ride, through several museums, and all over a national park!


Did you read more than usual? Unfortunately, my reading pace hasn't been very quick lately. July was not a lot different than previous months.


Did you give up anything in order to read more? I'd like to think I spent a little less time on the computer - but I'm not sure if that's true or not. I know I didn't watch the DVDs that I was hoping to also get to in July.


If you won the Amazon voucher, what would you spend it on? Oh, where to start?! My to-read list is so very long, and although I get most of what I read from the library, I do love buying books.


Would you like to see a 2009 Book Blowout? Of course! I love this stuff.
To see how other blowout participants fared, visit
Mrs S
!