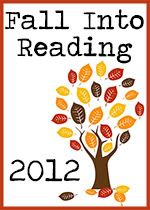 September 22-December 21
Hosted by Katrina at Callapidder Days
For the next thirteen weeks, I am going to "fall into reading"! It has been extremely difficult for me, however, to create a list of what I'm going to read. There are simply too many books on my to-read list! In the best possible world, I would read one book every single autumn day - but, alas, work and family and sleep and other necessary activities preclude that possibility.
My first list-making attempt resulted in a reading list of about 60 books. Then I started gathering those of the 60 that I have here at home, either because I own it (either in traditional format or on my Kindle) or because I've already checked it out of the library:
That pile was still too big for me to reasonably tackle during a thirteen-week span - and I'd rather end up with a feeling of accomplishment than a feeling of defeat. (By the way, I've been averaging a book-and-a-half per week this year, so I figure that I ought to be able to read 20 books in thirteen weeks without too much "challenge" - and a few more, especially if they're not too long, if I make it a priority.)
After adding a few titles of upcoming "required" reading (for my book clubs and for a literature class I start next month) plus a couple of new releases I'd like to get my hands on, I used the "random" sort function on
goodreads
(with just a little cheating) to narrow my list to the 26 books I plan to read for this challenge.
Here is the eclectic selection (in alphabetical order by author):
Letter to My Daughter by Maya Angelou
(I plan to listen to this one on CD during my commute.)
The Book of Mormon Girl: A Memoir of an American Faith by Joanna Brooks
(This is a memoir by the author of the blog Ask Mormon Girl.)
The Sand Bar by Rebecca Bryan
(I gratefully received a copy of this debut novel by a local author for review.)
Gone Girl by Gillian Flynn
(I checked out this recent release from the Kindle Lending Library, which is my favorite new "toy.")
The Fault in Our Stars by John Green
(I have heard many good things about this young adult novel.)
Baker Towers by Jennifer Haigh
(This is another one I plan to "read" via audiobook.)
Palace of Stone by Shannon Hale
(My daughter and I attended the book launch for this sequel to Princess Academy.)
With a Name Like Love by Tess Hilmo
(This is one of the children's books I will be reading in my literature class this year.)
Christ and the New Covenant by Jeffrey R. Holland
(I would like to read this one as I wrap up this year's Sunday School course of study.)
The Lions of Little Rock by Kristin Levine
(I think this children's historical fiction novel is getting some Newbery buzz.)
Gathering Blue by Lois Lowry
(The Giver is one of my all-time favorites, and I am planning to read the three books that complete the series, including the recently released Son.)
Messenger by Lois Lowry
Son by Lois Lowry
Sister by Rosamund Lupton
(This is one of the current Salt Lake County Reader's Choice nominees.)
Life of Pi by Yann Martel
(My book club read this several years ago, but I skipped it because I was going to be out of town during the meeting. Since only two of the current members of the group - which has undergone a lot of change over the years - have read it, we've picked it again.)
Heaven is Here: An Incredible Story of Hope, Triumph, and Everyday Joy by Stephanie Nielson
(This is the recently-released memoir by the blogger at NieNie Dialogues.)
The Buddha in the Attic by Julie Otsuka
(I have had my eye on this short historical fiction novel for a while.)
Between the Lines by Jodi Picoult and Samantha Van Leer
(This is a collaboration between one of my favorite authors and her teenage daughter.)
Simplify: A Guide to Caring for the Soul by Carolyn J. Rasmus
(Something about the title of this one just appeals to me deep inside.)
Happier at Home by Gretchen Rubin
(I adore Gretchen Rubin, and I am eager to read this second look at the concept of a "happiness project"!)
The Year My Son and I Were Born: A Story of Down Syndrome, Motherhood, and Self-Discovery by Kathryn Lynard Soper
(I have been wanting to read this memoir for some time.)
Before Ever After by Samantha Sotto
(This is another novel I was happy to receive for review.)
Liar & Spy by Rebecca Stead
(This is the latest book by the 2010 Newbery award winner.)
Malice by Robert K. Tanenbaum
(It has been more than five years since I read a book in the Butch Karp/Marlene Ciampi series, which currently stands at 24 books. This is the nineteenth.)
Variant by Robison Wells
(This is one of the young adult books I will be reading in my literature class this year.)
Doomsday Book by Connie Willis
(I am re-reading this all-time favorite for one of my book clubs.)
How I wish I could read all of my original picks during this challenge! (For the curious,
here
is a link to the complete "second-attempt" list.) But - as my sixteen-year-old daughter pointed out - it's not like I'm going to stop reading once winter arrives!